Data Privacy
Page last updated: November 2020
Ultra is committed to safeguarding the personal data of all data subjects. Known as Personally Identifiable Information in some of the countries where Ultra operates, personal data is only ever processed where there is legitimate and lawful reason to do so. Where explicit consent is required Ultra commits to obtaining and recording this from data subjects before processing commences.
Ultra collects and processes information about data subjects as part of its day-to-day operations. This includes personal data relating to individuals who work for Ultra in any capacity and personal data processed for customers, suppliers, partners and other parties.
All processing of personal data is undertaken in compliance with prevailing data protection and privacy law in the countries where we operate. This commitment is essential to ensure that personal data remains safe and the rights of data subjects are respected. These laws include:
UK – Data Protection Act 2018 and the General Data Protection Regulation (GDPR)
Europe – the General Data Protection Regulation (GDPR)
USA – US Federal Trade Commission and State legislation insofar as it is published, the California Consumer Privacy Act (2018) for example
Canada - Personal Information Protection and Electronic Documents Act (PIPEDA) and equivalent Provincial law specifically the Quebec Privacy Act
Australia – Australian Privacy Act (1988) and the Australia Privacy Principles
Compliance with data protection and privacy legislation is regulated by Supervisory Authorities within each jurisdiction. Ultra is committed to meeting the data protection standards recommended by the Supervisory Authorities in the countries were we operate, namely:
Failure to comply with prevailing data protection and privacy legislation within the jurisdiction of a supervisory authority may expose Ultra and, in some cases, individual employees to serious legal liabilities. For this reason all individuals who work for Ultra in any capacity in the UK receive data protection and privacy training both as part of their induction and as refresher activity, and in other countries where we operate data privacy training is held locally. Biennial data protection and privacy training for all employees globally is next planned for May 2021.
Ultra will only share personal data with other parties (including Ultra entities) where there is a legitimate and lawful reason in accordance with data protection and privacy legislation. Ultra will not engage other parties to undertake processing of personal data on behalf of Ultra without standard contractual clauses and / or non-disclosure agreements to protect the personal data in place. Any high-volume cross-border transfer of personal data between Ultra businesses requires inter-company Data Processing Agreements. All suppliers and other partners accept data protection clauses as part of any commercial arrangements with Ultra as standard.
Ultra formed a GDPR Programme team managed via the PMO in 2017 to implement the changes necessary prior to the GDPR becoming law in May 2018. With governance from a Steering Committee comprising executive sponsors from across Ultra, the framework for managing data protection and privacy both for the GDPR and to meet legislation globally was established. The framework: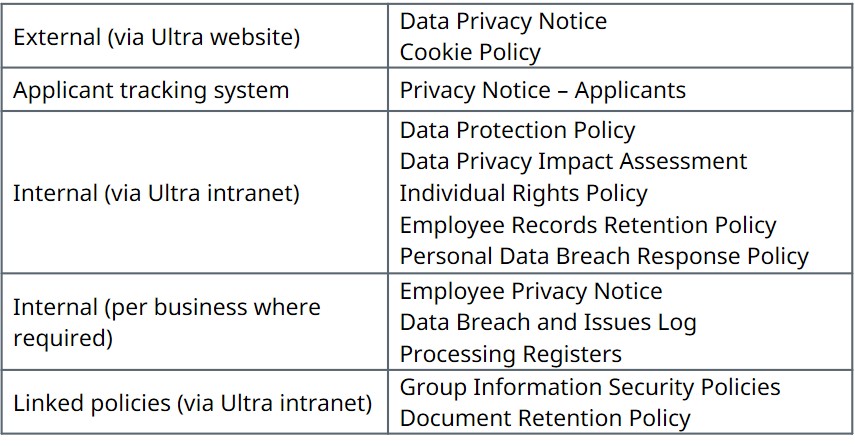 The Data Protection Policy (and all other Ultra data protection and privacy policies, procedures and guidelines) is an internal document that applies to all Ultra operations globally. It is reviewed annually, and any updates are communicated to all employees via global HR teams and communication mechanisms including Information and Consultation / Communication Committees, worker forums, intranet, newsletters and notice boards.
Data Protection Impact Assessment
Ultra requires that a Data Protection Impact Assessment (DPIA) is carried out when a proposed new initiative necessitates the processing of personal data. Examples include implementation of new technologies and changes to work processes requiring the processing of personal data. DPIA are approved by the Group Data Protection Officer who is responsible for providing guidance and recommendations for all data protection and privacy issues.
Collecting personal data
We collect Personal Data from you as a result of interactions including visiting our website, applying for a job with us, and everyday transactional business activity. The following list shows the type of information that we may record for business purposes: 
 Name, company and job title
Contact information including e-mail address
Demographic information
Your preferences and interests from a business perspective
Information relating to your market sector or business domain
Information associated with surveys, business opportunities or employment (please refer to the Recruitment section)
We may use your Personal Data to:
Communicate with you using commonplace technology (e-mail, telephone, tele-conferencing for example)
Engage in business transactions with you to process orders for Ultra products and services
Contact you about current and potential business and employment opportunities
Send newsletters, bulletins and circulars
Invite you to business events hosted by us or by other parties
Improve our products and services and for other market research and surveys
Send promotional materials or other information we think you will find interesting
Undertake any other business activity associated with our interactions with you
It is not our intention to electronically collect Personal Data from children and we do not promote or market our services to children without legitimate reason (engagement with schools and colleges for example). If you are a parent or legal guardian and you are concerned that your child has given us Personal Data, please contact our Group Data Protection Officer (please refer to the Further information section).
Sharing your personal data
We respect your privacy and will not share any Personal Data collected from you via whatever means except when required by law, including (without limitation) compliance with applicable data protection and privacy laws or judicial proceedings, court orders or any other legal processes, without fair and legitimate reason to do so. Any Personal Data you share with us will be treated with care and only used for the purposes set out in this global Data Privacy notice. Ultra will not sell any of your Personal Data.
Storing your personal data
We are committed to ensuring that your Personal Data is secure. In order to prevent unapproved access or disclosure we have put in place technical and organisational measures to safeguard and secure the Personal Data we collect.
Retaining your personal data
We generally retain your Personal Data for as long as needed to manage our relationship with you. We carry out periodic reviews of the Personal Data we hold to ensure it is up to date and accurate.
Your rights
Your rights in connection with providing Personal Data, and where permitted by applicable data protection and privacy law, are:
Access - You may request access to a copy of your Personal Data and further information about how we deal with your Personal Data.
Accuracy - You may request that we correct, delete or restrict the use of any inaccurate Personal Data we hold.
Erasure - You may request that we erase Personal Data we are holding where it is no longer being used for the purpose it was originally submitted for.
Subject to where you live, you may have other rights and choices in accordance with prevailing data protection and privacy law. Requests should be submitted to our Group Data Protection Officer (please refer to the Further information section).
Use of Cookies
Links to other websites
As a convenience to visitors, our website may contain links to other websites. Ultra is not responsible for the privacy practices or the content of such websites and it is recommended that users read the privacy policy statements posted via each website visited.
Further information
If you have any questions or concerns about this global Data Privacy notice or wish to exercise your rights our Group Data Protection Officer can be contacted via:
E-mail: [email protected].
Post: Group Data Protection Officer, Ultra Electronics, 35 Portman Square, London, W1H 6LR, United Kingdom
You can also submit a request using our
Contact us
page.
You have the right at any time to raise concerns with your local data protection supervisory authority directly. We encourage you to contact us in the first instance as we aim to promptly, efficiently and satisfactorily resolve any questions or concerns you have in relation to your Personal Data.
Changes to this Data Privacy Notice
We reserve the right to review the information contained in this global Data Privacy notice, please refer to this page frequently to view any changes or updates.
Recruitment
As part of any recruitment process Ultra collects and uses Personal Data relating to job applicants. This global Data Privacy notice applies to all prospective applicants and candidates during the recruitment and selection process for a role within Ultra. The application may be for a permanent, temporary or fixed term contract of employment as well as applications from candidates applying for an Apprenticeship or Graduate placement or to provide services via a Limited Company supplier agreement or through an Employment Agency or Umbrella Company. 
Cookies
Modern Slavery
This statement is made pursuant to section 54(1) of the Modern Slavery Act 2015 and constitutes Ultra's modern slavery statement for the period commencing 1 January 2020 and ending 31 March 2021 in accordance with the UK Government single reporting deadline mandatory requirement.
Modern slavery is a crime and a violation of fundamental human rights. It takes various forms, such as slavery, servitude, labour exploitation and human trafficking collectively referred to as 'modern slavery' in this statement. These have in common the deprivation of a person's liberty by another in order to exploit them for personal or commercial gain. Ultra and our subsidiaries (Ultra) have a zero-tolerance approach to modern slavery in any form.
Ultra is committed to acting ethically and with integrity in all our business dealings and relationships and to implementing and enforcing effective systems and controls to ensure modern slavery does not take place anywhere in our business or in any of our supply chains.
Our structure
Ultra Electronics Holdings plc is the group parent company. Our Head Office is in the UK, and we have other global offices and facilities predominantly in the USA, Australia, and Canada.
Our businesses
Ultra provides application-engineered solutions in the key elements of mission critical and intelligent systems. Through innovative problem solving, using sustainable capabilities, and evolving technologies, Ultra delivers outstanding solutions to our customers' most complex problems in defence, security, critical detection, and control environments.
Ultra is organised into five Strategic Business Units (SBU):
The Maritime SBU delivers mission systems and application engineering solutions operational on naval fleets across the US, UK, and allied navies worldwide. Developing advanced specialist systems to deliver warfighting edge in the modern maritime and underwater battlespace, solutions provide critical operational advantages to 'five-eyes' defence customers (UK, USA, Canada, Australia) across surface, sub-surface, and unmanned platforms. The Maritime SBU comprises four Operational Business Units (OBU): Sonar Systems; Sonobuoy Systems; Naval Systems; and Sensors and Signature Management and Power.
The Intelligence and Communications SBU delivers mission critical, multi-domain communications, command and control, cyber security, and electronic warfare solutions to defence customers (UK, USA, Canada) to inform decision making in the most challenging environments. The Intelligence and Communications SBU comprises four Operational Business Units (OBU): Communications; Specialist Radio Frequency; Command, Control and Intelligence; and Cyber.
Precision Control Systems (PCS) designs and supplies market-leading safety and mission critical solutions to the military and commercial aerospace markets.
Forensic Technology is a world-leader in ballistic identification and forensic analysis solutions that help law enforcement agencies around the world to prevent and solve crime.
Energy focusses on the supply of nuclear safety sensors and systems as well as selected industrial applications, predominantly in the UK, North America, and China.
Our supply chains
Each SBU operates autonomously and holds responsibility for management of their respective supply chains. Policy and guidance are provided centrally from Head Office, Global ONE Ultra Procurement, and the UK Procurement Council.
Ultra is committed to ensuring transparency in our business and in our approach to tackling modern slavery throughout our supply chains. To this end, the topic is regularly discussed during Global ONE Ultra Procurement forums and UK Procurement Council meetings.
Global ONE Ultra Procurement and the UK Procurement Council have determined that, in general, Ultra has a low dependency on goods and services from suppliers that present a high modern slavery risk. The goods and services procured by Ultra businesses are predominantly Commercial Off the Shelf (COTS) products, high-end technology, or consultancy/professional services from within North America, the UK, Australia, or other low risk territories.
The following steps are taken by Global ONE Ultra Procurement and the UK Procurement Council to prevent modern slavery occurring in Ultra's supply chains:
Determining and maintaining acceptable procedures for supplier pre-qualification
Ongoing assessment of modern slavery risks based on high country risks and high sector risks
Developing and maintaining a central Modern Slavery and Human Trafficking policy
Providing forums for discussing and recording when occurrences of modern slavery are identified (if any) and determining actions to prevent future occurrences
Developing and introducing training in identifying modern slavery across the supply chain for relevant employees and contingent workers
Our policies
Although ultimate responsibility for the implementation of the Modern Slavery and Human Trafficking Policy lies with the Ultra Board of Directors, this requirement has been delegated to SBU/OBU Managing Directors and Presidents who are responsible for the implementation and control of the policy and monitoring compliance within their respective businesses and for ensuring risk assessment of suppliers is effectively managed.
Managing Directors and Presidents ensure that:
Their business has in place systems to: identify and assess potential risks of modern slavery in their business and their supply chains; mitigate the risk of modern slavery occurring in their business and supply chains; and monitor potential risk areas in their business and supply chains.
Terms and conditions of purchase and associated purchasing documentation forbidding the use of modern slavery practices are adopted by their business with the right to terminate a relationship with a supplier if issues of non-compliance are discovered and/or non-compliance is not addressed in a timely manner.
Ensuring the Ultra Supplier Code of Conduct is issued to all suppliers, contractors, and business partners at the outset of the business relationship and reinforced frequently thereafter (the Ultra Supplier Code of Conduct will be published by the end of 2021).
Communication
Ultra expects the same high standards from all its contractors, suppliers, and other business partners and this is communicated:
In commercial contracts and purchasing documentation with external organisations
When adding/pre-qualifying suppliers to its vendor base
When conducting audits or visits at supplier sites
Via the Ultra Supplier Code of Conduct (published H2 2021)
During the reporting year Ultra has relaunched our independent, anonymous, and confidential reporting platform. Now known as 'Speak Up', this platform is a global channel for any individual who works for Ultra in any capacity to ask questions and report concerns they believe are a violation of the Ultra Code of Conduct including issues relating to modern slavery.
Training
Business leaders have responsibility for providing adequate and regular training to employees and contingent workers in their business to ensure a high level of understanding of the risks of modern slavery occurring in their business and supply chains.
Global ONE Ultra Procurement and the UK Procurement Council provide advice, guidance, and training to teams with direct responsibility for supply chains. In addition, our UK Procurement teams in each business have been made aware of the Home Office Modern Slavery Awareness and Victim Identification Guidance.
During the reporting year Ultra has issued a Code of Conduct, applicable to all individuals who work with Ultra in any capacity. This code reinforces businesses are responsible for ensuring that suppliers and other partners operate with integrity and to high ethical standards. All employees and contingent workers receive training pertaining to the Ultra Code of Conduct during induction and via regular refresher sessions.
Measuring effectiveness
The effectiveness of Ultra's modern slavery policies is measured in the following ways:
Business compliance with the Modern Slavery and Human Trafficking Policy
Rolling refresh of business risk assessments to ensure any changes in the profile of supply chain risks are considered, assessed, and appropriately managed
Review of the terms and conditions and purchasing documentation with suppliers
Review of due diligence processes adopted by businesses and training that has taken place in each business
Recording and monitoring modern slavery incidents (if any) within Ultra's supply chains and, where necessary, developing corrective measures.
Global ONE Ultra Procurement and the UK Procurement Council provide oversight and challenge to this measuring and review process.
Actions
During the next reporting period commencing 1 April 2021 ending 31 March 2022 we plan to:
Launch a Supplier Code of Conduct setting out minimum standards and expectations for suppliers and the broader supply chain. The code states Ultra's zero-tolerance of inappropriate business conduct, explicitly slavery, human trafficking, and labour exploitation in any form.
Extend the independent, anonymous, and confidential reporting platform Speak Up to suppliers to enable them to ask questions and report concerns they believe are a violation of the Ultra Supplier Code of Conduct.
Continue to monitor our modern slavery supply chain risks and provide guidance where necessary.
Continue to screen new suppliers and audit existing suppliers to ensure compliance with prevailing legislation in the countries where Ultra and the supplier/s operate meeting Ultra's commitment to audit a minimum of thirty key suppliers at least every two years.
Continue to review the feasibility of engaging with external parties or implement tools to support the evaluation and compliance of our key supply chain partners.
The board of directors of Ultra Electronics Holdings plc. approved this statement, signed by Simon Pryce CEO, at its board meeting dated 28 September 2021.